Did You Know That Flooding can Quickly Affect Your New Orleans Home?
9/30/2018 (Permalink)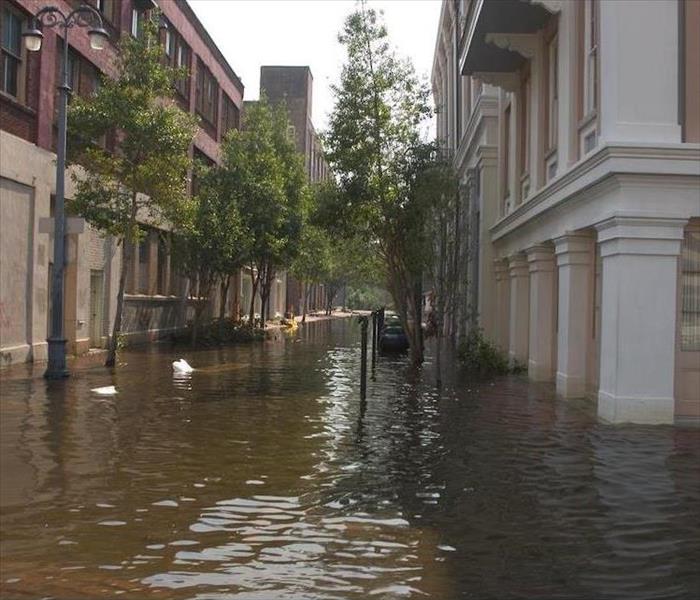 Storms can create conditions where flooding will affect your home. Contact SERVPRO should your home suffer storm damage and subsequent flooding.
Cleaning Up Flood Damage in New Orleans
For New Orleans residents, flooding is a familiar, but unwanted aspect of living in our beautiful city. Hundreds of homes are affected every year, regardless if the problem is a hurricane or just a sudden storm that caught people unaware.

Remediating flood damage to New Orleans homes means getting the water out quickly and taking steps to begin drying any affected property immediately. SERVPRO restoration teams train to draw water out of each home to put the residence and the residents back in a clean, safe environment.

Floodwater contains soil and whatever else was on the ground when it entered the home, so our technicians treat it as contaminated water. That means they start damage control efforts by spraying the surface of the water and nearby structural and personal property with an anti-bacterial agent to reduce the potential health risk to themselves and residents. Next, they don protective boots and coveralls to protect them as they begin removing the floodwater.

Now, technicians use pumps to draw water out of the home. Since this is contaminated water, they pump it either into a functioning sewer or a tank truck for delivery to a water treatment plant. SERVPRO personnel performs the same method using extraction wands to draw the last thin layer of water off floors and out of carpets.

Since the water is contaminated, our technicians do not attempt to clean the carpets. We cannot guarantee 100% that carpets are safe to keep in the home, so we remove them as quickly as possible. Team members spray the damp floors underneath with an anti-bacterial agent and then dry them using air movers and fans.

For personal property, our technicians lift furniture off floors or carpets and onto blocks or to another location. They clean fabrics and upholstered furniture with a shampoo that contains another anti-bacterial agent and wipes down wood and metal surfaces with the same agent and cloths. Once finished, they use fans to increase circulation and carefully dry the items without causing secondary damage.

At SERVPRO of North Kenner, Harahan & Lakeview, we want to restore every home to a clean, safe condition as quickly as we can do so. Every potential customer is also one of our neighbors, and we treat every residence with the care and respect it deserves. Call us today at (504) 468-3046 to get started.

Click here for more information on the city of New Orleans.