Commercial Water Removal
8/27/2019 (Permalink)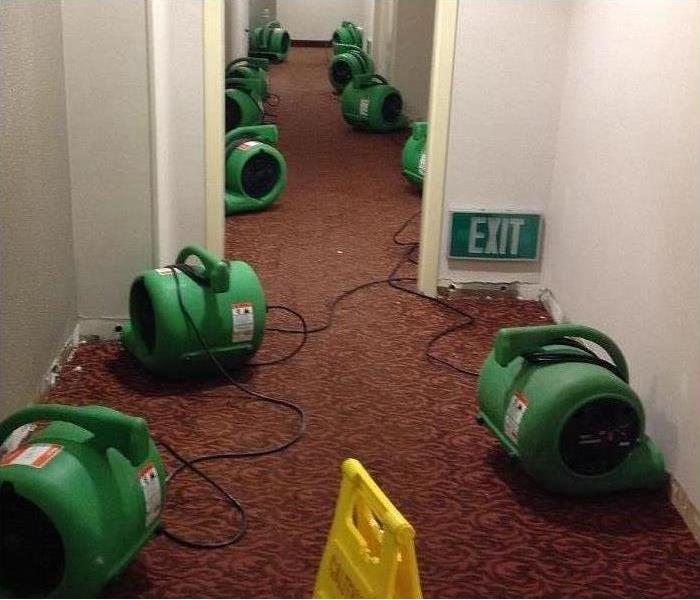 SERVPRO Provides Rapid Water Removal and Drying to Keep Enterprises Functioning during Emergencies
Kenner, Harahan, & Lakeview businesses have to deal with most of the same problems as residences when it comes to water intrusion from broken plumbing and leaky pipes in the walls or overhead. They also have to worry about reopening their doors promptly, so that customers can be served in a dry, safe environment and not take their business elsewhere.
A commercial water damage problem common to N. Kenner, Harahan, & Lakeview office settings is preserving the carpets. Although business carpeting is usually far cheaper than one for home, SERVPRO understands that the time to remove the carpet, dry and prepare the surface for a new one, and then install it, takes longer than drying out the existing carpet. The concerns we have when drying them are delamination and deterioration.
Each carpet has a primary and secondary backing layer. To hold the layers together and then glue the carpet fibers to the primary, manufacturers use latex as the adhesive. When soaked in water for too long, the latex breaks down, causing the backings to separate. This breakdown is delamination.
If the carpet remains underwater for too long, the fibers begin to separate and pull away from the surface layer. This action is deterioration, and it looks to the eye as if the carpet is beginning to thin out. Most people mistakenly believe this is from heavy foot traffic.
To prevent these actions, SERVPRO starts with removing as much of the water as quickly as we can bring in the right equipment. If the standing water is around ankle-deep, we can remove it using commercial grade pumps. For smaller amounts of water covering the carpet, we use water extraction wands or Rovers, a type of riding water extractor like a lawnmower. With these devices, we can control how much suction we use to prevent causing any secondary damage by accidentally lifting the carpet surface from the lower layers or pulling fibers out of the deteriorating latex. Heated drying mats, part of the SERVPRO arsenal of equipment, can also efficiently expedite water extraction and drying.
After removing the bulk of the standing water, we use dehumidifiers to pull moisture from the carpet surface and the surrounding air. As technicians monitor these machines, other team members set up air movers to blow warm, dry air over the carpet, forcing the damp air out where an exhaust fan removes it and blows it out of the facility. This use of negative air pressure is very useful for reducing the water vapor in the air that can cause secondary water damage to previously secure fixtures and furnishings.
Restoring your business office is not always a difficult process, but it does take training and the proper tools to do it correctly. SERVPRO of N. Kenner, Harahan, & Lakeview can walk through every step with you until we finish and return a dry, safe structure so you can reopen for business. Call today at (504) 468-3046 if you need our services.