Commercial Water Damage Methods in River Ridge
4/29/2018 (Permalink)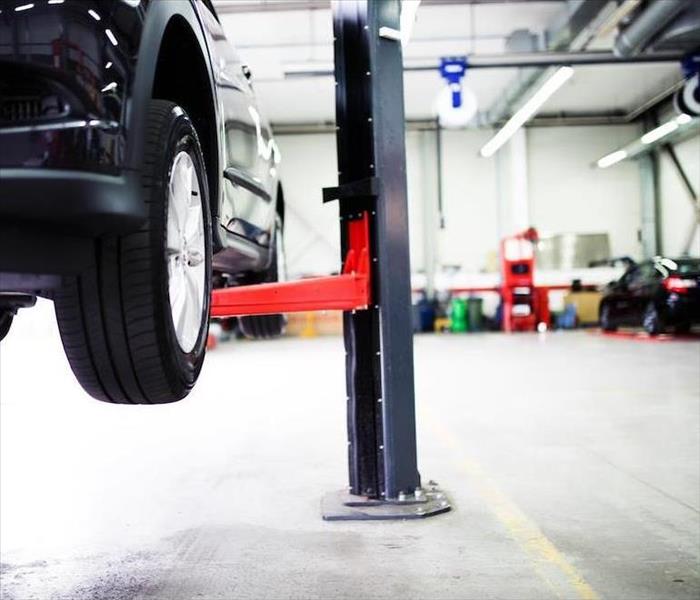 When your busy shop faces water damage, time is of the essence. Contact SERVPRO, and we will arrive quickly to start drying out your business.
Drying Out Services are Needed Right Away When Water Floods Your Shop
If a pipe breaks and water starts to leak into your auto shop in River Ridge, building materials and contents are at risk. Water can flow into all areas of your shop and damage multiple types of flooring. Most automobile repair shops have hard surface floors, but there might be tile in one room and concrete in the central area.

The longer moisture stays inside a building, the higher chance there is for items to sustain damage. SERVPRO's commercial water damage technicians in River Ridge have different types of equipment to extract and dry moisture out of the various types of materials. Depending on each situation we use a combination of methods and tools to mitigate moisture problems.

If concrete is painted, it may flake or blister requiring repainting. Concrete floors are porous so water can wick up leaving behind chalk-like calcium deposits on the surface. These can get brushed off, but if the leak is continuous, the deposits can return.

Asphalt tiles stay adhered to concrete pretty well even in water damage scenarios. At times the glue can break down and leave behind white, chalky deposits. These deposits can usually be cleaned without much effort.

Vinyl tile is not as durable and does not adhere as well to concrete as asphalt tile does. Vinyl tile can become loose when saturated with water. Vinyl tiles become loose when water flows on top of the concrete underneath the tiles. In most cases, vinyl tiling gets removed and replaced because it is relatively inexpensive.

Whenever your business gets damaged, we know it can take a toll on your company's revenues. We always take measures to ensure that your business does not get negatively affected during the restoration process. Many times the drying and extraction procedures take place when your business is closed.

Hard surface floors are usually quickly dried out and treated when damaged by moisture. Hardwood floors are made to withstand water but can still get warped if they stay wet for too long. Any time water causes a problem with your auto shop call SERVPRO of North Kenner, Harahan & Lakeview at (504) 468-3046 24/7.

Click here for more information on the town of River Ridge.